About Us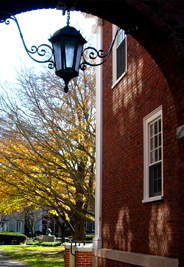 The HIO is part of the University's Central Administration and offers services to international students and scholars at Harvard College, the graduate and professional schools, as well as the numerous research centers and affiliated teaching hospitals, to minimize the difficulties they may experience both upon arrival and later during their stay at Harvard.
Mission
HIO provides information on a wide range of topics, including immigration issues (work permits, travel), financial questions, social and cultural differences, and resources at Harvard and in the community. International students are given the opportunity to participate in Harvard's International Student Host Program, which connects them with Americans living in the Cambridge and Boston areas.
History
The Harvard International Office (HIO) was established in 1944 to respond to the needs of a growing number of international students, resulting from the closing of universities in Europe and Asia. At the time there were 250 students from overseas who needed assistance with the settling-in process and advice in complying with U.S. Government regulations. The original mission of the office remains the same, but the international population has grown to over 10,000 international students and scholars, many of whom are accompanied by family members.
Since its inception, the HIO has acted as a liaison between international students and scholars and the U.S. government agencies that have jurisdiction over their stay here. Through the years, the HIO has played an increasingly important role in advocacy with government agencies and legislators on issues concerning international students and scholars.