Transportation
Harvard Shuttle Buses
Harvard Shuttle Bus
This shuttle provides free transportation to all parts of the Cambridge and Harvard Business School campuses. This service is limited to students and other Harvard affiliates with a Harvard ID. For information check Shuttle Tracker where you can locate specific buses on your computer or mobile phone.
Medical Area Shuttle (M2)
The M2 Shuttle runs between Cambridge and the Longwood Medical Area. Harvard students, scholars, faculty, and staff can ride the M2 Shuttle for free by presenting their Harvard ID. Family members of Harvard affiliates must purchase tickets for the shuttle. Tickets can be purchased at various locations in the Longwood Medical Area and at Cambridge City Hall. M2 Shuttle schedules and live tracker are available here.
Public Transportation in Boston
The public transportation system in the Boston area is called the MBTA or the "T". The "T" consists of subway, bus, and commuter rail services. Street signs indicate subway or bus stops. Service runs seven days a week from approximately 5:00 am to 12:30 am. Bus schedules may found on the MBTA website.
The Subway
The subway consists of five lines which extend outwards from downtown Boston. They are the Red, Green, Orange, Blue, and Silver Lines. The terms inbound and outbound are used to indicate in which direction the train is heading on the lines.
The Red Line runs inbound towards Park Street Station in Boston and outbound going away from Park Street Station. The stop for Harvard University on the Red Line is Harvard Square. It is on the way from Park Street Station to Alewife Station.
The Green Line (that has B, C, D, and E Lines) runs inbound to Park Street Station and outbound from Park Street Station as well. The Longwood Medical Area is located near the Longwood stop on the D line between Park Street and Riverside Station.
The Orange Line runs inbound to Downtown Crossing Station and outbound away from Downtown Crossing Station.
The Blue line runs inbound towards Government Center Station and outbound away from Government Center Station. The Blue Line has a stop called Airport, where you can then connect to shuttles that take you to the terminals at Logan Airport.
The Silver Line is a bus service but is considered a subway line. It connects with every subway line except the Blue Line. From South Station on the Red Line you can transfer to the Silver Line and it goes directly to all the terminals at Logan Airport.
Buses
The following are buses that come to Harvard Square:
1 - Harvard/Holyoke Gate - Nubian Station via Mass. Ave.
66 - Harvard Square - Nubian Station via Allston & Brookline Village
68 - Harvard/Holyoke Gate - Kendall/M.I.T. via Broadway
69 - Harvard/Holyoke Gate - Lechmere Station via Cambridge St.
71 - Watertown Square - Harvard Station via Mt. Auburn St.
72 - Huron Ave. - Harvard Station via Concord Ave.
73 - Waverley Sq. - Harvard Station via Trapelo Road
75 - Belmont Center - Harvard Station via Concord Ave.
77 - Arlington Heights - Harvard Station via Massachusetts Ave.
78 - Arlmont Village - Harvard Station via Park Circle
96 - Medford Sq. - Harvard Station via George St. & Davis Sq. Station
Fares
For riding on the subway and bus you must use a Charlie Card. Transfers from one bus to another are allowed without extra charge within a two hour period. Transfers do not apply from subway to bus travel. Money is deposited to a Charlie Card at ticketing machines located at any of the subway stops. You can buy a Charlie Card at some subway stations as well as some retail stores.
There are different types of T passes that can be purchased on the 15th of the previous month to the 14th of the current month. If you are being paid by Harvard or a Harvard-affiliated hospital and are eligible for employee benefits, you will be eligible for the Harvard MBTA Pass Program. Harvard offers its employees a 50 percent discount on monthly bus, subway and commuter rail passes. You can purchase your pass online, and you only need to sign up once for automatic monthly renewal. Payment is made through pre-tax payroll deduction, so employees save even more on top of Harvard's subsidy. You must sign up online no later than the fourth day of the month prior to the month for which you want a pass. For example, to be eligible for a November pass you must sign up by October 4th. Passes are mailed to your home address.
Commuter Rail/Trains
The Commuter Rail (Train) routes appear in purple on MBTA maps and primarily serve suburban towns. Trains going north start at North Station on the Green Line and going south at South Station on the Red Line.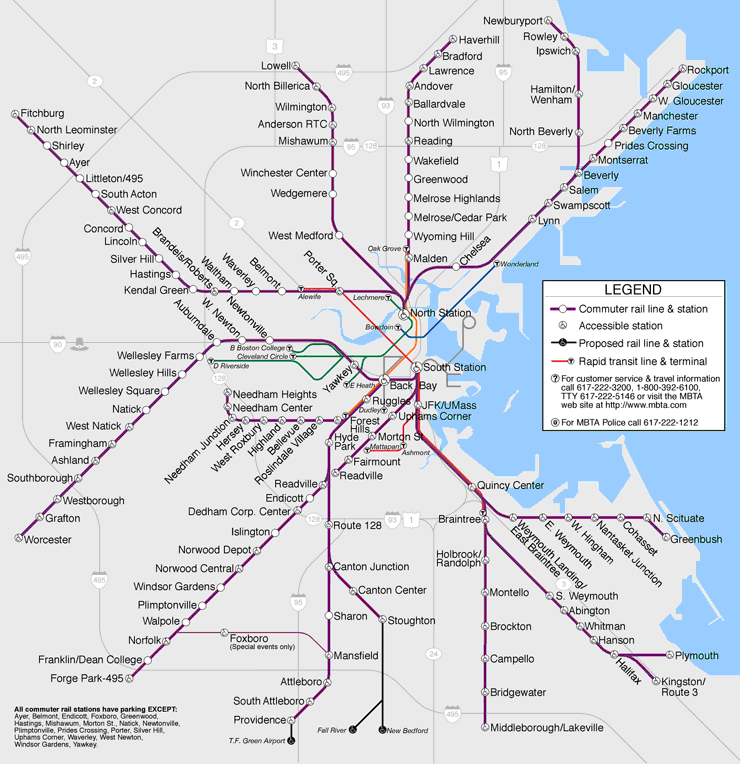 Taxis and Rideshare
Travel by taxi in the Boston area may be an expensive way to get around, but it can be convenient. Most people either get a taxi by calling and having the taxi pick them up (the taxi company will most likely ask for a cell phone number so they can call when they arrive) or go to get a taxi at a taxi stand. In Harvard Square there are taxi stands in front of the Smith Campus Center, the Harvard Coop, The Charles Hotel, and The Sheraton Commander Hotel. In the Longwood Medical Area taxis can be found at the entrance of a hospital.
Rideshare apps such as Uber and Lyft may be more convenient and may provide cheaper rates than taxis.
Owning a Car
Owning a car is expensive and maintaining a car (especially a used one) may be a constant financial burden. Before buying a used car, you should have a qualified mechanic examine the car. Massachusetts does have a Buyer's Right to Return Law that allows the buyer of a used car to return it for a full refund under certain conditions.
Massachusetts Registry of Motor Vehicles (RMV)
Car Registration
If you buy a car, it must be registered with the Commonwealth of Massachusetts. To register your car, you need to provide proof of car insurance, the bill of sale, and the certificate of ownership (the "title") at the Massachusetts Registry of Motor Vehicles (RMV). Two convenient locations are:
Boston: 630 Washington St. (Liberty Tree Building) (T: Orange Line to Chinatown)
Watertown: Watertown Mall, 550 Arsenal St. (Take the Red Line inbound from Harvard Square one stop to Central Square Station. Then take bus # 70 - Cedarwood, No. Waltham or Watertown Sq. - University Park via Central around the corner on Green Street).
Car insurance
Car insurance is mandatory. The average cost of insuring a car in Massachusetts is approximately $1,000 per year or higher depending on:
Type of coverage
Where you live
Age of the car
Car Tax
All car owners must also pay an annual excise tax, which varies according to the value of the car.
Parking
Some communities do not allow overnight parking on the street. Others limit daytime street parking to intervals of two hours. Never assume that a parking space will be included in the rental price of an apartment, even if there is a parking lot or garage in or near the building.
In Cambridge and Boston, a majority of the streets require a parking permit that can be obtained only if your car is registered in that town. Local ordinances prohibit parking on certain street cleaning days. Pay close attention to posted signs before parking your car. Even where street parking is permitted, it is often difficult to find a parking space. Parking meters monitor the length of time you are permitted to leave your car in a parking space. Most parking meters accept cash, credit card, or payment via an app. If the words "violation" or "expired" appear on the meter, the allotted time has ended and you are expected to move the car or you will get a parking ticket. Parking tickets must be paid or penalties will be assessed.
During the winter months when snowfall is particularly heavy, snow emergencies will be declared through most public media and news outlets. At these times, parking is prohibited on many streets. Signs are posted on the streets that are included in these parking bans.
Car Rentals and Zipcar
In order to rent a car in the Boston area you must have a driver's license and a major credit card, and you must be 25 years or older.
Zipcar provides another alternative to car ownership. Zipcar provides cars for rent at hourly and daily rates. All reservations include gas and insurance and international drivers licenses are accepted. Sign up here for a discounted membership rate and use one of many Zipcars across campus or hundreds more across the Boston area.
Bicycles
A system of publicly-shared bicycles with a network of 150+ stations including 12 stations at Harvard to which bikes can be returned. Harvard affiliates are eligible for a discounted yearly membership of $80. Register for a membership here:
Choose Group Membership - Select "Harvard University Employees" or "Harvard University Students" from the drop-down menu
Program Code: HARVARD
Use your harvard.edu email address
For more information on bicycling commuter benefits, department bike-share programs and other bike programs and resources, visit the Harvard Campus Services CommuterChoice site.

When riding a bicycle you must observe traffic laws, be cautious (do not assume car drivers can always see you), and always lock the bicycle when leaving it unattended. Lock the bike in a well-lit and well-traveled area, rather than in an isolated area where it could be easily stolen. Invest in a sturdy bicycle lock. With so few bicycle paths, cyclists must bike on the street with the flow of car traffic. A popular bicycle path is the one along the Charles River. You should always wear a bicycle helmet while biking. $15 helmets can be purchased at the CommuterChoice Office: 1350 Massachusetts Avenue, Room 837. You may register a bicycle with the Harvard University Police (HUPD) by going in person with the bicycle to HUPD Headquarters at 1033 Massachusetts Avenue or to 90 Smith Street (near Longwood Medical Area) in Boston.