Host Program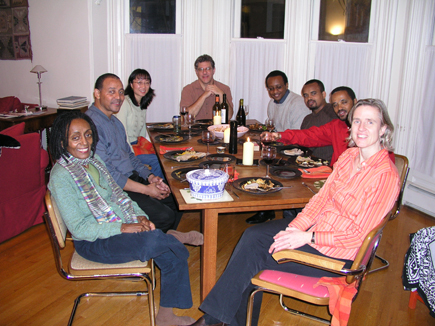 A host having a student and friends over for dinnerSince 1962 the Host Program has provided an opportunity for friendship to occur between Harvard international graduate students who have never lived in the United States and residents who live in the Boston area.
Residents in turn benefit from exposure to the wealth of cultures that come from around the world to study here at Harvard. We invite prospective students and hosts to visit this site to get a better idea of what the expectations are of the Host Program. There are also school specific programs throughout Harvard that students may qualify for, check directly with your individual school to see if your school has a program.
FAQ (Frequently Asked Questions)
Who are the students participating in the program?
Priority is given to students who have never lived in the United States before. The overall goal is to match all international students who apply.
How does a student apply?
International Students get the application form in their admissions packet with a brochure for the Host Program. The brochure gives students details as to how to apply on-line to the program. If you did not receive this packet and would like to apply please send an e-mail message to Harvard International Office stating in the subject line "Request for Host Program Application" and in the body of the message provide your full name as was submitted to the admissions office, the degree program you have been admitted to and the name of the school you will be attending at Harvard.
How long does it take to be matched?
Most applications are received by the end of May. Hosts are contacted to choose students. This may take time depending on when applications are received, the host's interests and their vacation schedules. The time that we spend communicating with the hosts will increase the chance for a successful match.
Are hosts paid?
No, their participation in this program is purely voluntary. Their goal is to be helpful in a friendly and supportive way.
What do hosts do?
Hosts help students in many different ways. Some may meet students upon arrival at the airport. Some may assist with both the overwhelming and exciting process of settling in and becoming acclimated to new surroundings. While hosts do not provide housing, they may offer occasional meals, interesting outings, stimulating conversations, encouraging words, or holiday celebrations. To further enrich the exchange, students may invite their hosts to university events, to go out for walks, to prepare a dish from their country, etc. In addition the Host program organizes a few informal events during the year where hosts and students can come together.
What activities do hosts do with students?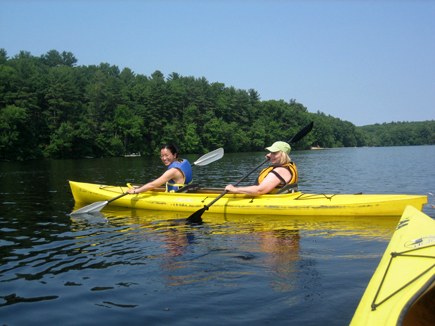 A host and student kayaking togetherThe interesting thing about having an international visitor is that it makes one look at one's community from a different perspective. Through conversations hosts can find out what their students are interested in. There is more to the students than what appeared in their applications. Hosts may discover some interesting and surprising activities that the students enjoy doing back home and would like to continue here in the United States. This information generates related activities to suggest to students. Sometimes hosts discover things that they weren't aware of right in their own back yards.
Who are the hosts?
Hosts are Boston area residents who reflect America's diverse society. They live in local communities and come from many ethnic, socio-economic and religious backgrounds. They vary in age and may be single, couples, or families with children.
What makes a match successful?
Each student-host pairing is unique. It is the students and their hosts who share the building blocks for a mutually rewarding friendship. Such friendship can enormously enrich life outside the classroom. They may, in fact, last years beyond the student's study time at Harvard!
How much time is required of hosts?
Of the time spent during the whole year most of it will be spent at the beginning of the student's stay. As the year progresses the gaps between communications tend to get bigger. It is critical to pay attention to the needs of students in the beginning because it is when the foundation is being established for the relationship.
Can a host have more than one student?
Yes! We usually have a supply and demand issue. Some hosts have found that hosting two students is actually easier. If they are from different countries lively conversations can occur when comparing experiences.
What are the financial expectations of hosting?
Although Americans tend to be uncomfortable talking about money the issue should be discussed between hosts and students. Assumptions can lead to feelings of hurt and embarrassment for both parties.
Since the hosting obligation is for one year, how do hosts handle students who are here for a longer period?
Students are aware that the program is for one year. If a fast friendship develops that is great. The coordinator of the Host Program, however, will be hoping that hosts are still available to host a new student for the coming academic year. Experience has shown that during the second year that no matter how strong the friendship the meetings are much fewer. Sometimes the hosts will bring their former student along to help from time to time with a new student.
Are there events where the program gathers as a whole?
The Host Program organizes a few informal activities during the year where hosts and students can come together as a group. There will be some cultural outings that will be free; others that may require a fee. Hosts will inform their students when and where these events take place. Students are welcome to attend these events without there hosts or vice versa.
Apply to Become a Host
Be part of a group of special people who help make Harvard a friendlier place for newly arrived international graduate students. By joining the Host Program for International Students, you join the hundreds of volunteers who, over the past 45 years, have enriched the lives of thousands of students beyond the ivy walls, and at the same time, found their own lives enriched. A relatively small effort can bring big rewards. Your kindness reflects Harvard, the Boston community, and in fact the United States as a whole. Hosting is a way in which one person can make a difference!
Or Contact:
Host Program for International Students
Harvard International Office
864 Smith Campus Center
1350 Massachusetts Avenue
Cambridge, Massachusetts 02138
Tel. (617) 495-2789 Fax (617) 495-4088

Guidelines for Hosts
Expectations of Hosts
Hosts are expected to contact their students and make arrangements to meet them, usually upon arrival, at Logan Airport. Our experience shows that the immediate post-arrival time is when students need and enjoy the attention from their hosts. Once classes begin, students become immersed in their studies. However, hosts are expected to stay in touch with students during the year. The amount of time spent together is up to the hosts and students. In the beginning, most students benefit from the knowledge that their hosts can offer as they try to learn things in a new environment.
Students also relish the opportunity for a window into life in the United States. Events do not have to be elaborate or costly. They can be as simple as:
Eating dinner or drinking coffee at your kitchen table
Going to the supermarket
Friday night pizza
Watching a sports event
Celebrating a birthday or holiday
Exploring different neighborhoods, towns, etc.
Your most important contribution is to express care, whether it is spending time together or calling just to say "hi."
Once Hosts Have Been Matched with Students
An immediate welcoming e-mail message or letter gives new students a real sense of security. Hosts may want to include information about their family, interests, their neighborhood, and where they live in relation to the University. A photo might be nice. The e-mail does not need to be a long message. It is making the immediate connection which is important. If for any reason, hosts have not been able to contact their student(s) and the arrival date is imminent or has passed, please email Harvard International Office.
Upon a Student's Arrival
Students keep telling us how important it was to be met at Boston Logan Airport. They often have just completed a long tiring trip. A friendly face at the airport means a great deal to them. In crowded arrival areas a sign with the student's name can be helpful.
If hosts cannot meet their students at the airport it might be helpful to try to make arrangements for a friend to meet the student. Should neither be possible, hosts might want to send prior notice to the students that they will not be met at the airport. In this case, hosts should try to give precise directions about reaching the student's living quarters or the hosts' homes. Knowing the approximate cab fare is also helpful information. The fare to Cambridge is about $35.00 plus a 15% tip. Hosts also may wish to point out that there are two Foreign Currency Exchange stations at Logan Airport in Terminal E open every day from 7 am to 11 pm, and one in Terminal C open Monday to Sunday from 8:00 am to 9:00 pm.
Students may be exhausted after a long journey. Many prefer being taken to their accommodations to rest. Here are some things to make the first night easier on students if they are going directly to their living quarters.
A welcome bag or basket with a soft drink or juice and perhaps some fruit, cookies or crackers is much appreciated.
Lending a set of sheets, towels, and blankets for the student's temporary use makes resting easier the first few nights.
Showing students their surroundings, e.g. the location of a nearby convenience store.
Making sure the students know how to contact their host(s) by phone.
Helping place a phone call home would be appreciated by many students who may have had instructions from their families to let them know that the students have arrived safely in Boston.
Calling the next day to say hello and check in as an extension of the initial welcome is a nice gesture.
Some volunteers enjoy bringing their students to their homes from the airport or having them as houseguests. We leave that up to hosts, but remind the hosts that students are told not to expect housing of any kind from their hosts. The students' schools will have sent them housing information and there is a list of (hyperlink to temporary accommodations) in this website.
Immigration Requirements for Students
International students have special obligations to the U.S. Government, and it is the role of the HIO to help students meet them. Hosts should be aware that students must register with the HIO as soon as possible after arriving at Harvard. This initial check-in normally takes about 15 minutes to complete. Students cannot register for classes prior to registering with the HIO. If students have any questions regarding visas, employment, travel outside the United States or financial matters please direct them to the HIO.
Orientation Meetings
Every other week throughout the year an orientation called "Getting Started" is offered by the HIO. The orientation increases in frequency during the months of August to mid September. Each school within Harvard provides its own orientation session as well.
Starting the Academic Year
The beginning of an academic year is a critical time for students. It is important for hosts to be supportive, enthusiastic and understanding. Remember that international students are making many adjustments simultaneously - new living quarters, unfamiliar food, and new academic systems. What seems instinctive or obvious to locals may not appear so to the students. Empathy and patience, as well as instruction, may be needed from the hosts.
Speaking of Money
The HIO does not expect hosting to be a costly undertaking for hosts. American culture has tended to dictate that one does not speak about money. However, communicating is important to clarify expectations. If hosts would like their student(s) to pay for something, for instance, a long distance call on one's bill, concert tickets, ski lift tickets, etc., they should explain their expectations of payment in advance, i.e., before placing a call or purchasing tickets. Hosts should not extend loans. Please let the program coordinator know immediately if you become aware of any financial emergency from the students.
Housing
Many students arrive knowing they have University accommodations. Students usually proceed from airports to their dormitories. In some cases, students may arrive after the designated key pick-up hours. Every school has provided instructions to the students as to when and how to get the keys to their rooms. Students receive information about what is included in University housing. It may be possible for a host to get the student's dorm key prior to the student's arrival should the host wishes to do so. Contact the housing program coordinator at the student's school for more information.
Most dormitory rooms include basic furniture, but no linens. Students are told that Harvard owned apartments are unfurnished except for kitchen appliances. Hosts may wish to suggest that spending the first few nights in temporary accommodations may be a better solution to assure rest.
Furnishings
Furnishing a temporary home can seem overwhelming if one doesn't know where to go, or what to do. The HIO has information flyers about shopping and also MIT has opened its MIT Furniture Exchange to the Harvard and Boston University communities. Tell students about yard sales, specific stores, Craigslist or want ads. There are stores such as Cort Putnam Furniture in Central Square which offers rental furniture and sell used furniture and IKEA that sell new furniture at reasonable prices. An offer by the hosts to accompany students on a shopping excursion is often very helpful. For example, pointing out the Arsenal Mall area in Watertown or Fresh Pond, Cambridgeside Galleria Malls is useful since they can be reached by bus and offer more shopping variety than Harvard Square. Advice about grocery shopping using the MBTA is also helpful.
During the Academic Year
Once classes begin, the academic mission becomes foremost in a student's mind. However, hosts should not fade into the wings. The casual "call me if you need me" mystifies most students. On the whole, students would hesitate to call. Students tell us they are puzzled or feel rejected when regular contact is lacking.
It really is up to the host to initiate contacts or extend invitations.
Occasional phone calls (most students have voice mail or answering machine) or e-mails show that you care and provide tremendous encouragement and support. Should your invitation be turned down, it is probably due to the overriding need of meeting the new academic challenges your student faces.
Don't let refusals dissuade you from extending future invitations. Hopefully, your student will soon feel comfortable enough to propose ideas for getting together too.
If you have concerns contact the Host Program Coordinator, email the International Office, or call her at 617-496-2789.
Group Activities
For all activities organized by the Host Program the coordinator only notifies the hosts. The hosts in turn notify their respective student(s). So for the first event of the year the hosts will receive an invitation in late August for a beginning of the year picnic held in September. These activities offer a wonderful opportunity for hosts to connect with other hosts in the program as well as other students. Students will also have the opportunity to meet students from other schools within Harvard(there are very few intra-school gatherings) and other hosts in the program.
Hosts will receive an invitation via e-mail from the Host Program.
Hosts will contact their students to extend the invitation.
Students will only know about events from their hosts.
Hosts or students can attend without the other
Fall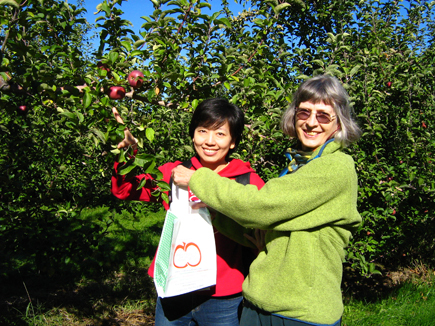 Apple pickingAutumn in New England is something hosts can show off, a great time to share with students. Consider an afternoon of apple picking or cider pressing; a trip to the countryside or the Arnold Arboretum for spectacular foliage; a picnic; Halloween trick or treating or a costume party. It's a wonderful time to strengthen bonds of friendship.
The Holiday Season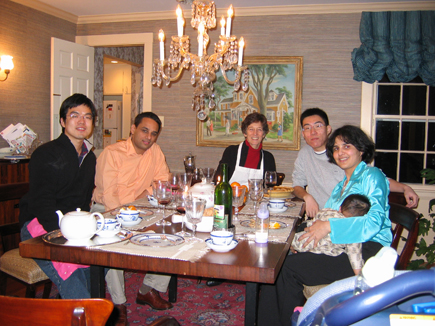 Celebrating Thanksgiving dinnerHoliday season often presents a dilemma -- flexibility is the key! Some hosts love sharing their Thanksgiving, December, or New Year's traditions with students. Others find themselves wondering how to include non-family guests. For the students, this may be a time to travel or to catch up on academic work. Most international students, however, are curious about American holiday customs. Hosts all have their own traditions, but giving thanks and sharing gifts seem to be universal. What better way to celebrate than allowing your student a window on your own holiday world!
Outings to Consider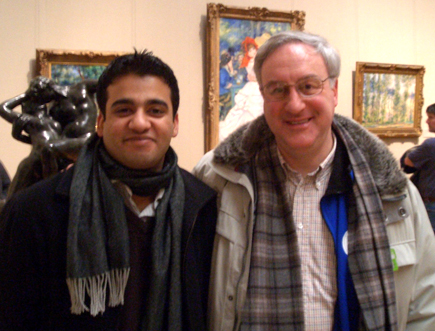 A host and student visit the Museum of Fine ArtsHosts should decide what their schedule permits. Encourage students to voice their desires, likes and dislikes, too. Be upfront about how much the tickets cost if you would like your student to pay.
Some favorites:
Personal Celebrations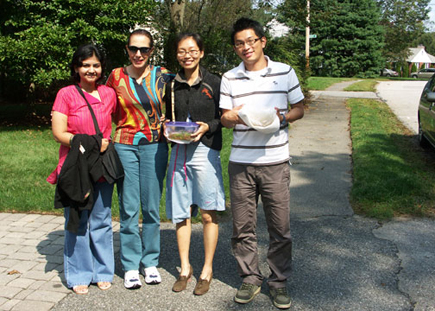 Going to a potluckStudents will feel honored to be included in a host's celebrations of life's milestones, a birth, a birthday, a wedding, even a funeral or memorial service. Allowing students to share a part of the host's life is a great gift. For example, an invitation to see the host's child perform in a play may be more treasured by the students than a ticket to professional theater. Students have told us they enjoy participating in family events. Don't be surprised on having a new outlook on something previously taken for granted!
Commencement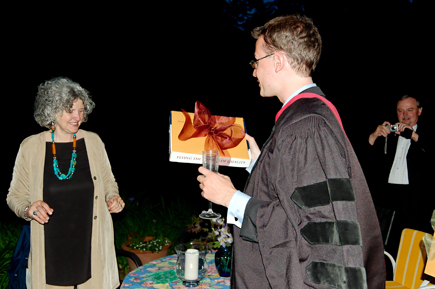 Graduation celebrationStudents will probably want to share it with their hosts. Graduation gives the hosts the opportunity to celebrate their student's academic achievement.
If the student's family is here for the occasion, hosts might offer to help with housing arrangements for the family. The students will probably want their families to meet their host(s)—their American family. Departures are bittersweet times, but it does not have to be an end. Rather, you have begun an international friendship, one that can be continued through correspondence and future reunions here and abroad.
About Commencement Day
Graduate Students are usually given only two tickets to the morning exercises in the Harvard Yard, Tercentenary Theatre (between Widener Library and Memorial Chapel). It is difficult to find additional tickets for this event and it is very crowded. Television monitors are set up so people can see the activities on the stage.
Students return to their respective schools to receive their diplomas in another ceremony and have lunch. No tickets are needed to observe this but tickets are needed to have the prepaid lunch. Now that the students are new alumni of Harvard they can participate in the Annual Meeting of the Harvard Alumni Association, during which Harvard's president and the featured Commencement speaker deliver their addresses. This is held in the same place as the morning exercises but does not require a ticket.
My host provided a valuable escape from the Harvard student bubble every now and again, and gave my parents enormous peace of mind before I went 3000 miles away to know my host was picking me up at the other end.